Survivor Interviews

Supplies:

Mask, Purell
or a Hazmat suit
.
.

edit
Coronavirus Diagnosis

edit
What are the symptoms? BBC
It seems to start with a fever, followed by a dry cough.
After a week, it leads to shortness of breath and some patients require hospital treatment. Notably, the infection rarely seems to cause a runny nose or sneezing.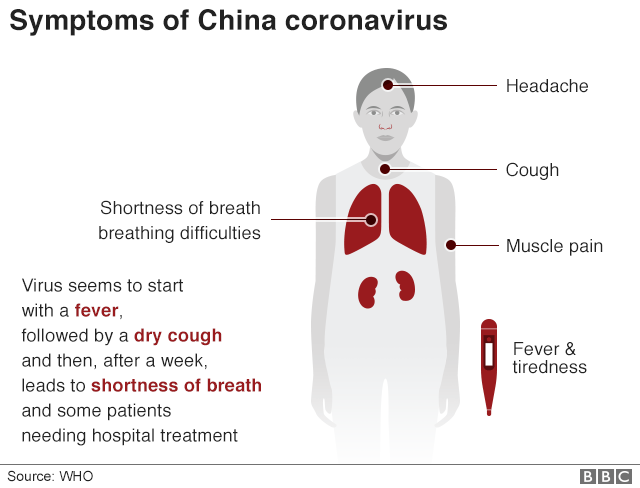 The incubation period:
- between infection and showing any symptoms - lasts up to 14 days. | Source: World Health Organization (WHO).
But some researchers say it may be as long as 24 days.
And Chinese scientists say some people may be infectious even before their symptoms appear.
How deadly is the coronavirus?
Based on data from 17,000 patients with this coronavirus, the WHO says:
82% develop mild symptoms
15% develop severe symptoms
3% become critically ill
The proportion dying from the disease, which has been named Covid-19, appears low (between 1% and 2%) - but the figures are unreliable.
Thousands are still being treated but may go on to die - so the death rate could be higher.
But it is also unclear how many mild cases remain unreported - so the death rate could also be lower.
To put this it into context, about one billion people catch influenza every year, with between 290,000 and 650,000 deaths. The severity of flu changes every year.
Can coronavirus be treated or cured?
Right now, treatment relies on the basics - keeping the patient's body going, including breathing support, until their immune system can fight off the virus.
However, the work to develop a vaccine is underway and it is hoped there will be human trials before the end of the year.
Hospitals are also testing anti-viral drugs to see if they have an impact.
WHO is working closely with global experts, governments and partners to rapidly expand scientific knowledge on this new virus, to track the spread and virulence of the virus, and to provide advice to countries and individuals on measures to protect health and prevent the spread of this outbreak.
If you have any better links Please let us know
CoronaVirus News Update edit